Your product may be eligible for price matching if it follows this criteria:
Identical to the competition's product**
Not shown on our exclusions list
Not be a Promotion in Competitior's website

We'll match the price if you want to buy a qualifying item at Capsuline.com then find the identical item for less at other website. Price match must be requested at time of purchase. After purchased requests will not be considered for price match.

Exclusions apply including, but not limited to:
Clearance, closeout, liquidation sales, offers advertised as % or $ off.
"Marketplace" prices from third party sellers.

We'll match the price if the item you are submitting for price match is not in the clearance, closeout or liquidation sales section in the competitor's website.
Offers found on other websites will be validated at the retailer's primary website and must meet all other price match criteria described above.
Email quotes might qualify for price match, only if you submit copy of the email showing the sender's email address and dated maximum 15 days prior to the price match request at Capsuline.com.   i.e: If requesting the price match on July 20th, you can submit copy of an email quote dated on July 5th of after.
Before submitting your request, you must copy the URL address of the competitior's product you want us to price match. Then, fill out the price match request, as shown below: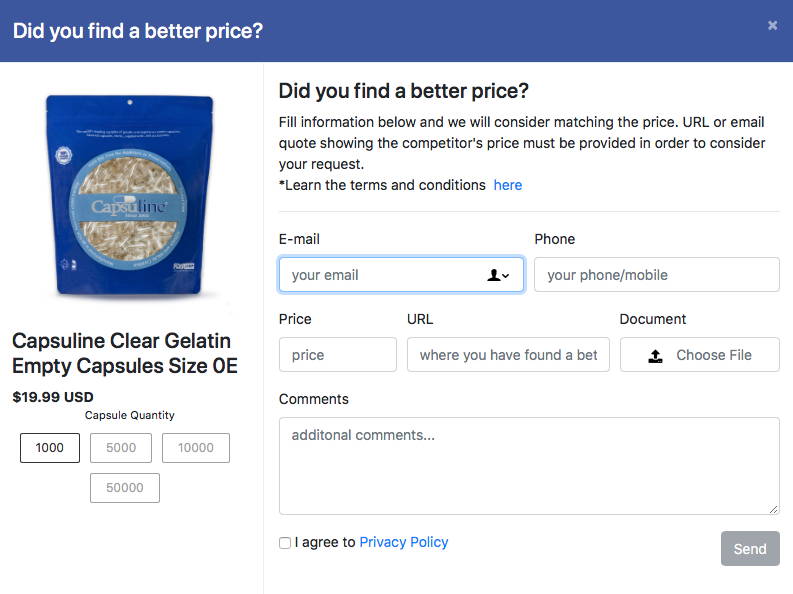 2. Capsuline reviews your request 
Once you submit your request, Capsuline will validate the information at the competitor's primary website, using the URL you provided.  
3. Offer is accepted or rejected 
You will receive a notification email, similar to the one below, informing you of our decision. Expect a notification within 12 to 24 hours (M-F) of your request. If the price match request is made over the weekend, we will reply to you on the next business day.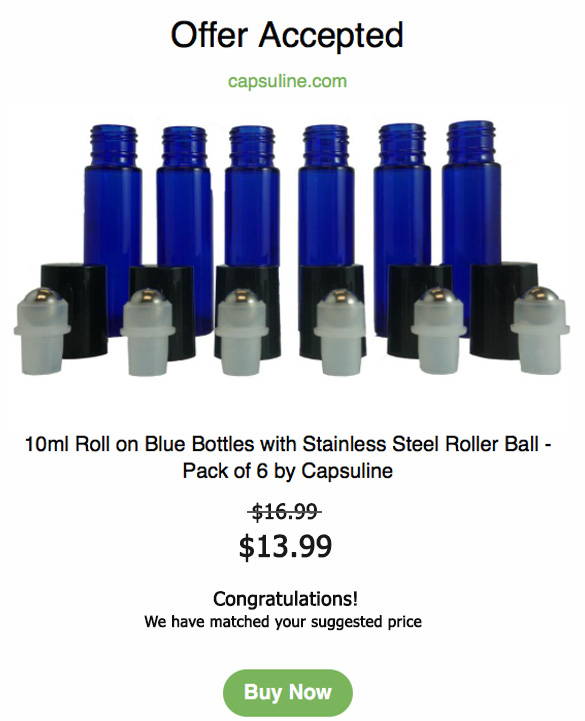 *Offers to be price matched must meet the conditions described here. The decision to price match is at Capuline's sole discretion.
**Identical Product is an item with the same specifications in regards to size, color, quantity and composition (i.e: Size 00-Clear Gelatin Capsules).